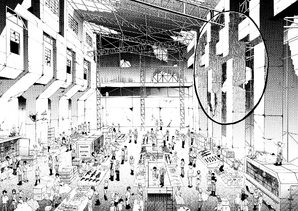 The Cocytus is a market place in the slums run by Zelik Lindemann. It specialises in selling everything from illegal goods to people to more common items.
Appearance
Edit
The Cocytus is located in an old damaged building in the slums. The main hall is huge and holds many traders. There is a room in the back which is Zelik's office. Most furniture in the Cocytus is well worn.
Key Features
Edit
The main feature of the Cocytus is it's wide variety of traders. Traders can be seen with either stands or some sit with blankets on the ground. The Cocytus has a policy against asking questions about peoples plans for what they buy so it is very appealing to criminals and rebellion groups. The boss, Zelik, is very influential in the slums.
Alliances
Edit
The Cocytus works closely with Graham Gregson, the leader of COSMOS, due to his friendship with Zelik. The Cocytus helps COSMOS in the final battle by working from the slums.
There is a hole in the ceiling from where Ricalna crashed Heaven's Tower's bike